About Us
We will never forget where we came from, because that is who we are.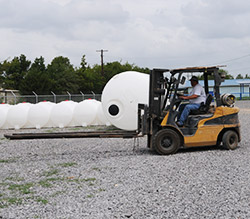 Since Tank Works was founded in 2001 we have operated under one simple phrase, "Whatever it Takes." That phrase has driven us to provide the highest quality and environmentally-friendly, and helped us to become the leader in the design of polyethylene tanks.
We manufacture and distribute polyethylene tanks that are used in the natural gas and oil field production industry.
Tank Works was formed in a small shop in Keller, Texas with only two employees. In eight years, the company grew to have three facilities, in two states, with over forty employees.
Those small town values and beliefs are still at the core of our business model and the driving force in our determination to be a leader in customer service, innovative environmental design, and quality.
From the Owners:
Owning a company that is in the natural gas and oil field industry has been quite an adventure. Since we first opened we have seen many changes in the industry. The industry itself is growing at a record pace. There are new challenges and new technology we confront almost daily. Through, that is what makes this so interesting.
To our customers, our goal is to continue to offer unprecedented customer server, new exciting, and environmentally sound ideas to the industry. To all those who make Tank Works function everyday - We thank you. Your commitment and above and beyond attitude is unequalled.