Polyethylene Tanks
Tank Works offers a wide range of vertical bulk storage tanks in numerous shapes and sizes. Our polyethylene tanks are typically 1.7 to 1.9 specific gravity for "oil field tough" applications.
Our entire vertical tank product line is available in all colors. We also offer a full line of lightweight water-only tanks.
---
Assemblies / Tank Stands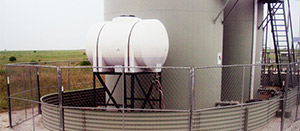 The Tank Works manufacturing facility custom builds all of our tank stands. Our trained technicians use the highest quality material and paint to provide our customers with a product that is long lasting and durable. Stands for our tank stand assemblies are a standard 30" in height.
We can custom build any size stand that you may require.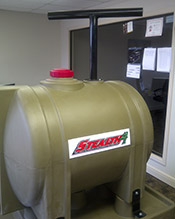 Tank Works Stealth 4
The Tank Works Stealth 4 is the latest version of the Stealth products line. The fourth generation provides the same reliability and durability as the previous Stealth designs, but with added features such as a lower, sleek design, a molded-in solar panel mount and better visual gauging of the product in the tank.
The Stealth 4 is a two piece tank and containment system. By removing the tank stand from the unit, we were able to lower the unit by 12 inches, thus making it safer to fill the unit with chemical. It also saves in freight costs for our customers.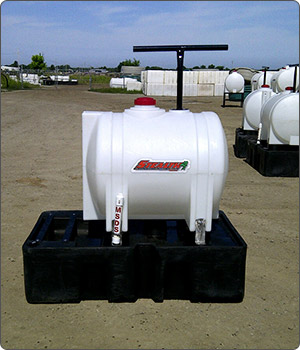 ---